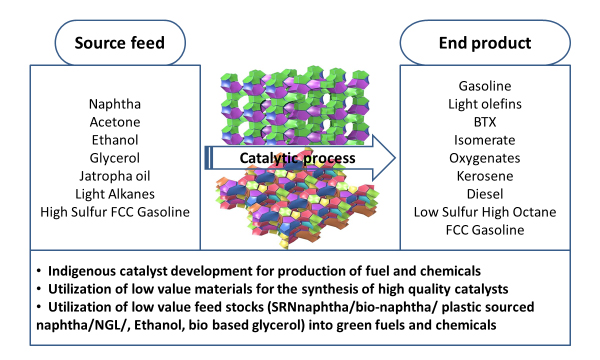 Light Stock Processing (LSP) area, as by name, deals with research activities related to the value addition of lighter hydrocarbons which is otherwise difficult as the reactivity of lighter hydrocarbons is low when compared to that of the larger molecules. The molecules addressed here are mostly from the low value refinery streams such as raffinate, straight run hydrocarbon cuts obtained from primary crude processing, low value biproducts obtained from primary processes such as bio-naphtha obtained in the process of bio-oil conversion to jet fuel, plastic naphtha obtained from the process of waste plastic pyrolysis, glycerol obtained from trans-esterfication etc.
Catalytic Reforming (CR) is a traditional dehydrocyclization reaction-based process for the production of high octane motor spirit and the fundamental high value petrochemical grade molecules, namely Benzene, toluene, xylenes (BTX). This research area has more than three decades of experience and expertise in reforming. The bi-metallic IPR-2001 commercial catalyst developed by CSIR-IIP has seen the commercial success against global competition and the process worked in two Indian refineries namely IPCL, Baroda and CPCL, Chennai for more than a decade.
The bottom line of the research in LSP-CR area lies in material synthesis and catalyst development as it is an essential component to design the catalyst with potential active site components that should activate the targeted light hydrocarbon feed molecule to justify atomic economy through the established reaction conditions of the process. The research team has established the synthesis and functionalization of various zeolite materials for the first time at CSIR-IIP, for the processes such as light naphtha isomerization, NTGG, C4 alkylation and C7+ isomerization. Light naphtha isomerization process provides a Cl-free catalysts system for the production of high octane branched paraffins. The process has been demonstrated for IOCL (R&D), Faridabad. The NTGG process provided a novel aromatization route for otherwise non-reformable n-pentane having feedstocks. Keeping in benzene limitations in mind, the process produces toluene and xylene rich gasoline even from n-hexane feedstocks. LSP-CR area is also working on the development of industrial catalyst for the value addition of bio-glycerol towards petrochemicals/BTX applications. Recently, we also started to working on the utilization of CO2 for the production of value added chemicals. Bi-metallic balanced, skewed, zeolite based and CCR catalysts are some of the catalysts developed for reforming. After successful completion of bench scale studies, most of the processes are getting transformed for industrial applications.