Principal Scientist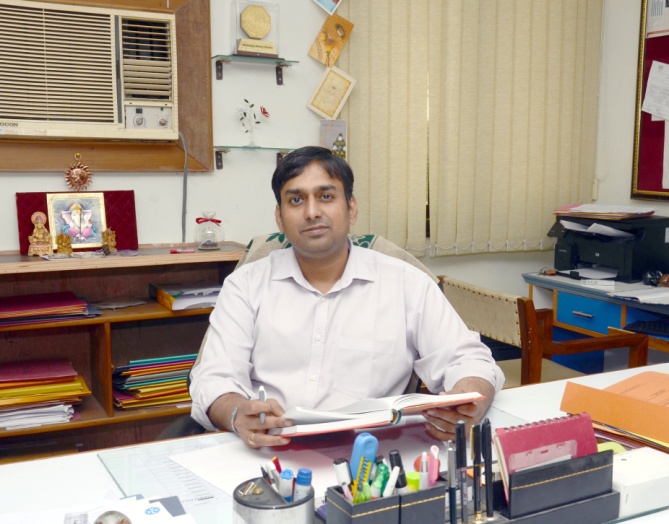 | | |
| --- | --- |
| B Tech | 2003, Chhatrapati Shahu Ji Maharaj University, Kanpur |
| Ph D | Ongoing, IIT Mandi |
| E-Mail | mshukla@iip.res.in |
| Telephone No. | +91 – 135 2525930 |
| Cell No. | +91 – 9760132244 |
Research Interest
Engine performance and combustion behavior of Alcohol and Ether based fuels.
Engine after-treatment devices.
Work Experience
Senior Scientist: CSIR – Indian Institute of Petroleum, Dehradun (2006-Till Date)
Project Associate: IIT Kanpur, (July 2003 – December 2006)
Awards and Honours
Letter of Appreciation from Indian Institute of Petroleum Dehradun in August 2013 for efforts regarding fire safety
Best Paper Award in 7thInternational Symposium on Feedstock Recycling of Polymeric Materials (ISFR), 23-26 October 2013, New Delhi
Award 2017 of International Society for Energy, Environment, and Sustainability
Rashtriya Gaurav Award 2017 by India International Friendship Society.
Young Scientist Award of Research Awards-VIRA 2017 in the field of automotive fuels and lubricants by Venus International foundation.
Selected Publications
Water in Diesel Nanoemulsion Fuels for Diesel Engine: Combustion Properties and Emission Characteristics
Hemant Kumar, M K Shukla, Vimalkumar
Prospects of Alternative Transportation Fuels published by Springer (Book Chapter)
Effect of blending alcohols on performance and exhaust of kerosene-fuelled 4 stroke genset
MritunjayShukla, Eshansingh, Sunil Pathak
In 'Biofuels: Technology, Challenges and Prospects' published by Springer (Book chapter)
Effect of EGR on the Exhaust Gas Temperature and Exhaust Opacity in a Compression Ignition Engine
Avinash Kumar Agarwal, Sharawn Kumar Singh, Shailendra Sinha, Mritunjay Kumar Shukla Sadhana
Vol. 29,Part 3, June 2004,pp.275 284
Experimental Wear Characterization of Titanium Based PVD Coatings for Automotive Applications Using Exhaust Gas Recirculation
Avinash Kumar Agarwal, Ashish Garg, Dhananjay Kumar Srivastava, and Mritunjay Kumar Shukla
Surface and Coating Technology, Volume 201, Issue 13, March 2007, pp 6182 6188. (ISSN # 0257 8972)
Portable Biogas Bottling Plant: a Practical Approach for Using Biogas as Transportation Fuel in Rural Areas
Avinash Kumar Agarwal, Mritunjay Kumar Shukla
International Journal of Oil, Gas and Coal Technology, Volume 2, Number 4 / 2009, 379 – 388
Performance Emission and Noise Characteristics Evaluation of n Butanol/Gasoline Blend in Constant Speed SI Engine
EshanSingh, Mritunjay Kumar Shukla,Sunil Pathak , Vineet Sood, Nishan Singh
International Journal of Engineering Research and Technology (IJERT), ISSN: 2278 0181, Vol. 3 Issue 11, November 2014.
Prospects of 2,5 dimethylfuran as a fuel: physicochemical and engine performance characteristics evaluation
Mritunjay Kumar Shukla, Eshan Singh, Nishan Singh, S K Singal,
Journal of Material Cycles and Waste Management, July 2015, volume 17, issue 3, pp 459 464
Heat transfer augmentation using twisted tape inserts: A review
Varun, M.O. Garg, HimanshuNautiyal, Saurabh Khurana, M K Shukla
Renewable and Sustainable Energy Reviews, Volume 63, September 2016, Pages 193 225
A K Agarwal, S Tripathy, S Sinha, M K Shukla
L090, Proceedings of PETROTECH 2003, Vol. 2, pp. 225
Comparative Wear Performance of Titanium Based Coatings for Automotive Applications Using Exhaust Gas Recirculation
Avinash Kumar Agarwal, Ashish Garg, Dhananjay Kumar Srivastava, and Mritunjay Kumar Shukla
International Conference on Superhard Coatings, Ein Gedi, Israel, 27Feb. 1 March 2006.
Preliminary Investigation into Comparative Performance of Titanium based Coatings for Automotive Applications using Biodiesel Blend and Diesel
Mritunjay Kumar Shukla, Avinash Kumar Agarwal, Ashish Garg
Proceedings of Internal Combustion Engines Division, Spring Technical Conference 2006, ICES 2006 1974, Aachen, Germany, May 7 10, 2006
Bio ethers as Transportation fuel A review
MritunjayKumar Shukla, ThalladaBhaskar, A K Jain, S K Singaland M O Garg
Proceedings of 5th International Conference on Biofuels, organized by Winrock International India, held at Delhi on Feb. 7 8, 2008
Biodiesel Taxation Policies Worldwide
Suchit Singh, Mritunjay Kumar Shukla, Sudhir Singhal
In Proceedings of 5th International Conference on Biofuels, organized by Winrock International India, held at Delhi on Feb. 7 8, 2008
Fuel Economy and Emission study on S.I. Vehicle Fueled by Ethanol/Gasoline Blends: Investigating the role of Viscosity" ,
Devendra Singh", M K Shukla, Y R Singh, S P Singh, A K Jain, and S K Singal
Proceedings of ISFL 2008
Experimental Investigation of Engine and Vehicular Performance and Emission of Diethyl Ether/ Diesel Blends
Mritunjay Kumar Shukla, Kalyan Singh, Yograj Singh, I.P. Singh, A.K. Jain, S.K. Singal
Paper N0. 805, in proceedings of PETROTECH 2009, New Delhi, 11 15 January 2009.
Biobutanol: Potential Alternative to Gasoline
Mritunjay Kumar Shukla*, A K Jain, S K Singal
proceedings of 6th International Biofuels Conference organized by Winrock International India, , New Delhi, March 4 5,2009
Cost-Benefit Analysis of Biodiesel: Is it socially viable
M K Shukla, Bhawsinghka Amit, Suchit Singh
proceedings of 6th International Biofuels Conference organized by Winrock International India, New Delhi, March 4 5, 2009
Performance Characteristics of Biodiesel and Ethanol Gasoline Blend in a diesel Passenger Car,
M K Shukla, Sunil Pathak, A K Jain, A K Aigal, S K Singal
proceedings of Symposium on Fossil Economy to Biomass Economy, Indian Institute of Petroleum, Dehradun, 19 21 August 2009
Study on Use of Natural Gas Hydrogen Mixtures in an Automotive Engine
Sunil Pathak, A K Aigal, M K Shukla, Vineet Sood, ML Sharma, Yograj Singh, and S K Singal
world Hydrogen Technologies Convention 2009 in New Delhi, India, held during August 26 28, 2009
Studies on Use of Neat Biodiesel in an Automotive Diesel Engine for Performance and Emissions
Wittison Kamei, I P Singh, M L Sharma, Kalyan Singh, M K Shukla, S K Singal
Paper Number: A033 in proceedings of 7thInternational Symposium on Fuels and Lubricants, March 9 12, 2010
Investigation of Engine and Vehicular Performance and Emission of n Butanol/Gasoline Blend
Mritunjay Kumar Shukla, A K Jain, S K Singal
IIP golden jubilee Symposium Biotechnology A Road Map towards Sustainable Energy, IIP Dehradun, December 10 12,2009
Experimental Investigation of Engine Performance and Emission of n Butanol/Gasoline Blends Mritunjay Kumar Shukla, Sunil Pathak, Vineet Sood, A K Jain, S K Singal
Paper No:20100965 In proceedings of, PETROTECH 2010
Diethyl Ether as a Transportation Fuel
Mritunjay Kumar Shukla, A K Jain, S K Singal
Technical Bulletin of SIAT 2011
Butanol/Diesel blends as an SI engine fuel: Physicochemical and performance characteristics evaluation
M K Shukla, GD Thakre, R C Saxena, Y K Sharma, A K Jain, S K Singhal
9th International Colloquium on fuels: Conventional and future Energy for Automobiles, Stuttgart Germany ", January 15 17, 2013
Investigation of Vehicular Performance and Emission from Isomers of Butanol Blended in Gasoline
Mritunjay Kumar Shukla, Yograj Singh, Sethpal, A K Jain, S K Singal
proceedings of 2012 Petrotech 2013, New Delhi, Paper ID 651, 14th to 17th October
Fuel Economy of SI Vehicle Fueled by Ethanol/Gasoline Blends – Role of Engine Lubricant Viscosity
Devendra Singh, M K Shukla, YR Singh, and Nishan Singh
17th Asia Pacific Automotive Engineering Conference, a conference of Innovative Technology for Next Generation Mobility, in Bangkok, Thailand Paper No.: 13APAC 0172, 1 4 April 2013
Prospects of 2, 5 Dimethylfuran as a fuel: Physicochemical and engine performance characteristics evaluation
Mritunjay Kumar Shukla, Eshan Singh, IrannaGogeri, Mohd Asif, SatishSingal
7th International Symposium on Feedstock Recycling of Polymeric Materials (7th ISFR 2013) New Delhi, India, 23 26 October 2013
Prospects of Diethyl Ether as Transportation Fuel: A Review
Mritunjay Kumar Shukla, Sameer Sharma, Nishan Singh
ICAEMR 2015: First International Conference on Advances in Engineering and Management Research Dehradun (Uttarakhand) India, July 19, 2015
Prospects of 2, 5 Dimethylfuran as an Alternative Fuel: Performance Characteristics Evaluation on a 4s Motorcycle
M K Shukla, S K Pathak, Yograj Singh, Yogesh Singh
In Proceedings of 10th International Symposium on Fuels and Lubricants (10th ISFL 2016), New Delhi, India, 18 20 April 2016
Optimizing the efficiency of a gasoline engine, by the onboard production of HHO gas
Anshul Kumar, ShaswatTripathi, M K Shukla
Power and Energy Conference, ASME International, 26 30 June 2016
Experimental Evaluation of Manifold Injection of HHO on Performance Characteristics of Constant Speed 4 Stroke SI Engine
ShashwatTripathi, Anshul Kumar, M K Shukla
International Conference on Sustainable Energy and Environmental, February 26 28, 2017, Mohali
Catalytic direct decomposition of NO" International Conference on Sustainable Energy and Environmental
M K Shukla, T Bhaskar, Atul Dhar
February 26 28, 2017,Mohali
Recycling and reducing the use of platinum group metals (PGM) in catalytic converters
M K Shukla, ThalladaBhaskar, AtulDhar, ShashwatTripathi
4th 3R International Scientific Conference on Material Cycles and Waste Management, March 8 10, 2017, New Delhi