Principal Scientist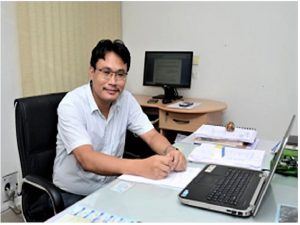 BE
2000, Madurai Kamaraj University
PG Diploma

PhD

2012, Institution of Engineers (India), Kolkata

Electronics & Electrical Engineering, IIT Guwahati

Email
robindro@iip.res.in
Telephone No.
+91 – 135-2525810
Cell No.
+91 – 9634272407
Research Interest
EV Powertrain System, Drive Cycle Analysis, Energy Consumption and Efficiency studies
EV charging system.
Hybrid Electric Vehicle (HEV) and their Research and development studies.
Automotive Test Systems.
Microcontroller based embedded technology & systems.
Work Experience
| | |
| --- | --- |
| Principal Scientist | CSIR-Indian Institute of Petroleum, Dehradun (2016 – Till date) |
| Senior Scientist | CSIR-Indian Institute of Petroleum, Dehradun (2011 – 2016) |
| Scientist | CSIR- Indian Institute of Petroleum, Dehradun (2006 – 2011) |
| Senior Project Engineer | M/s OEM Technological Instruments, Delhi (2002 – 2006) |
Awards and Honours
Reviewer for several IEEE papers.
Reviewer for Springer Nature Journal 'Environmental Science and Pollution Research'.
Reviewer for a Journal called 'Data-Centric Engineering', Cambridge.
Distinction holder of the year 2000 batch Engg. Graduates from 'Madurai Kamaraj University'.
External Expert for the Board of Studies (BoS) of EECE Dept. of DIT University, Dehradun.
Invited speaker for the morning science programme called 'Science Magazine' at All India Radio (AIR), Imphal in 2017 and 2018.
Developed and demonstrated a prototype EV conversion kit for two passenger cars. The retrofitted vehicles test-driven by the honourable Minister of S&T, Dr Harsh Vardhan in August 2019and DG CSIR in Dec.2018.
Awarded 'Speaker of Eminence' for the Faculty Development Programme organized on 27th April – 2nd May 2020, by Guru Nanak Institute of Technology (GNIT), Kolkata.
Keynote speaker for the ATAL Scheme for 'FDP on Electric Vehicles' to the PG students and invited Faculties, held during 7th- 11th Dec., 2020, sponsored by AICTE and organized by North Eastern Regional Institute of Science and Technology (NERIST), Nirjuli, Arunachal Pradesh.
Invited Speaker for AICTE Training And Learning (ATAL) Academy Online Elementary FDP on "Emerging Trends and Developments in Electric Vehicles" from 25-29th Oct. 2021, sponsored by AICTE and organized by National Institute of Technology (NIT) Manipur, Imphal, India.
Session Chair for Springer International Conference ICCDN 2021, 15-16 Dec.2021.
External Expert reviewer for PhD thesis of a research scholar of DIT University, Dehradun, 2021-2022.
One-week Faculty Development Program (FDP) on "Management of Intellectual Property Uncertainty in Designing and Manufacturing for Electric Vehicle Systems", held during 21st–25th Feb.2022, sponsored by AICTE and organized by Electrical Engineering Department, NIT Manipur.
Keynote speaker for National Level Technical Seminar on "Performance Evaluation of an Electric Vehicle in Real-World" on March 12, 2022, organized by Department of Electrical & Electronics Engineering, Sri Sivasubramaniya Nadar College of Engineering, Chennai in association with The Institution of Engineers (India).
Invited speaker for 3-days GUJCOST sponsored short term training program (STTP) on "Electric Vehicles Technology" during 8th-10th April, 2022, organised by Dept. of Electrical Engineering, School of Technology, Pandit Deendayal Energy University, Gandhinagar, Gujarat.
Member of BIS committee TED-27 and TED-26.
Patents
Selected Publications
Divya Sai Iruku, Gagan Singh, Nafees Ahamad and Robindro Lairenlakpam, "Classification of different methods to calculate state of charge of lithium-ion battery," IEEE International Conference on Breakthrough in Heuristics and Reciprocation of Advanced Technologies (BHARAT-22)", GITAM Institute of Technology, GITAM (Deemed to be University), Visakhapatnam, 2022.
Lairenlakpam, R., Kumar, P., and Thakre, G., "Experimental Investigation of Electric Vehicle Performance and Energy Consumption on Chassis Dynamometer Using Drive Cycle Analysis," SAE International Journal of Sustainable Transportation, Energy, Environment, & Policy 1(1):23–38, 2020, doi:10.4271/13-01-01-0002.
Lairenlakpam, R., Kumar, P., and Thakre, G., "Effect of Real-World Driving and Drive Modes on Electric Vehicle Energy Consumption and Performance in a Tier-II Indian City," SAE Int. J. Sust. Trans., Energy, Env., & Policy 1(2):2020, doi:10.4271/13-01-02-0008.
Robindro Lairenlakpam, Praveen Kumar, GD Thakre, "Electric conversion of a gasoline vehicle in an electric vehicle and its performance and drive cycle analysis," IEEE Power Electronics, Drives and Energy Systems Conference (PEDES)-2018, IIT Madras, paper id:63,19,Dec.2018.
Lairenlakpam, R., Jain, A., Gupta, P., Kamei, W. et al., "Effect of Real World Driving and Different Drive Modes on Vehicle Emissions and Fuel Consumption," SAE Technical Paper 2018-01-5017, 2018, https://doi.org/10.4271/2018-01-5017.
Robindro Lairenlakpam, Praveen Kumar, GD Thakre, Poonam Gupta, Yograj Singh, "Effect of Different Drive Modes on Energy Consumption of an Electric Auto Rickshaw," IEEE International Transportation Electrification Conference (ITEC)-2017, Pune,paper id:S5-73,13, December2017.
Momenimovahed¹, J.S. Olfert¹, M.D. Checkel¹, S. Pathak², V. Sood², L Robindro², S.K. Singal², A.K. Jain², M.O. Garg², "Effect of fuel choice on nanoparticle emission factors in LPG-gasoline bi-fuel vehicles," International Journal of Automotive Technology, 14(1), February 2013, doi:10.1007/s12239-013-0001-7.
AK Sinha, R Kumar, R K Joshi, S A Farooqui, M Anand, B S Rana, M G Sibi, A K Jain, W Kamei, S K Pathak, L Robindro, S K Singal, and M O Garg, "Superior Drop-in Bio Fuels – Jet Fuel and Diesel produced by advanced Hydroprocessing of Jatropha Curcas Oil," International Refining & Petrochemical Conference (IRPC-2013), July 9-11, 2013, NewDelhi.
Jain, A., Robindro, L., Pathak, S., Singh, Y. et al., "Impact of Road Quality, Traffic Management and Driver Training on Vehicular Emissions and Fuel Economy-an Experimental Study on Indian Roads," SAE Technical Paper 2011-26-0040, 2011, doi:10.4271/2011-26-0040.
Wittison Kamei, Sunil Pathak, L. Robindro, Vineet Sood, "Impact of Real-World Driving Conditions on Vehicular Emissions and Fuel Economy," National Seminar on Advance Manufacturing Techniques in Context with Energy Conservation, Dehradun, 18–19th November 2010.
Sunil Pathak, L. Robindro, A.K. Jain and Dr. S.K.Singal, "Impact of Road traffic Pattern on Fuel economy and emissions: India scenario," Indo-German Seminar on Future Mobility, 26-27 Feb. 2010, New Delhi
Google Scholar LinkComplete List of Publications