Technical Officer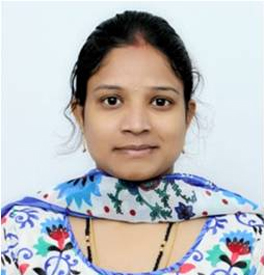 | | |
| --- | --- |
| M Sc | 2009, Andhra University Vishakhapatnam |
| Ph D | 2018, Uttarakhand Technical University, Dehradun |
| E Mail | padmalatha@iip.res.in |
| Telephone No. | +91 – 135 - 2525 795 |
| Cell No. | |
Research Interest
Synthetic Organic and Polymer Chemistry
Surface functionalization
Polymer Composite materials
Eco-friendly Polymer materials
Utilization of CO 2 to produce valuable chemicals
Work Experience
| | |
| --- | --- |
| Technical Officer | CSIR-Indian Institute of Petroleum, Dehradun (Feb 2016-till date) |
| Technical Assistant | CSIR-Indian Institute of Petroleum, Dehradun (Jan 2011-Jan 2016) |
| Research Associate | Jubilant Life Sciences Limited, Gajraula (Nov-2011-Aug 2012) |
| Project Assistant-II | CSIR-Indian Institute of Petroleum, Dehradun (Sept-2009-July 2011) |
Patents
Metal salts of amino acids, their preparation and uses for co-polymerization of epoxides with carbon dioxide
P L Patnam , P Kumar, S L Jain and S S Ray
Indian Patent 201611037018
Covalently bound chicken feather grafted enzymes, preparation thereof and application as biocatalyst
S Kumar, P L Patnam and S L Jain
Indian Patent 201611042735
A process for the aqueous polymerisation using bio free radical catalytic system.
P P Latha , A Bansal, I Shekhar, U Kumar, S L Jain, S S Ray and A K Chatterjee
Indian Patent 938DEL2014
An Improved Process for the production of N-methyl-2- Pyrrolidone (NMP)
P P Latha, P K Khatri, U Kumar, I K Ghosh, S L Jain, A K Chatterjee and B Sain
An Improved Process for the production of gamma – Butyrolactone
P P Latha, P K Khatri, S L Jain, A K Chatterjee and B Sain
Indian Patent 0248Del2013
Selected Publications
Self-driven graft polymerization of vinyl monomers on poultry chicken feathers in the absence of initiator/ catalyst
P L Patnam, S S Ray, A K Chatterjee and S L Jain
J. App. Pol. Sci. 2017, 44645, 1-9
Magnetically separable chicken feathers: a biopolymer based heterogeneous catalyst for the oxidation of organic substrates
P L Patnam, M Bhatt, R Singh, S Saran and S L Jain
RSC Adv. 2016, 6, 60888- 60895
Poultry chicken feather derived biodegradable multifunctional additives for lubricating formulations
P P Latha, R K Singh, A Kukrety, R C Saxena, M Bhatt and S L Jain
ACS Sustainable Chem. Eng. 2016, 4, 999−1005
Sustainable catalysis using magnetic chicken feathers decorated with Pd(0) for Suzuki- cross coupling reaction
P P Latha, M Bhatt, S L Jain
Tetrahedron Lett. 56, 2015, 5718–5722
two in one approach: renewable support and enhanced catalysis for sweetening using chicken feather bound cobalt(II) phthalocyanine under alkali free environment
D K Chauhan, P L Patnam , S K Ganguly and S L Jain
RSC Adv., 2016, 6, 51983-51988
Expanded Corn Starch as a versatile material in atom transfer radical polymersiation (ATRP) of styrene & methyl methacrylate.
A Bansal, A Kumar, P P Latha, S S Ray and A K Chatterjee
Carbohydrate Polymers 2015, 130, 290–298
Selenium-doped TiO 2 as an efficient photocatalyst for the oxidation of tetra-hydrofuran toγ-butyrolactone using hydrogen peroxide as oxidant
P P latha, P K. Khatri and S L. Jain
Synlett 2013, 24, A-E.